How stepping out of your comfort zone can lead to some wicked cool stuff.
A year ago I never would have dreamed that I would be getting ready to go to the GRAMMY Awards this week.  Hell, I never would've dreamed that I could do even HALF of the things I did in the past year. How did I get here?  Let me tell you.
The actual journey is a long and sordid tale, but the short version encompasses my love of music and my ability to organize the shit out of things for other people.  After becoming a professional PR consultant less than a year ago, I've done some amazing things.
I got to meet Kevin Bacon (Thank you, Cindy Alexander!), Mark Rivera, Don Felder, Mark Farner and a bunch of other killer musicians.
I met Dick Vitale and was able to introduce him to Lionel Richie and CeeLo – after which I was Tweeting from Dick's cell phone and got written up in the Washington Post.
I did the PR and ran the behind the scenes for a major charity event to benefit Children's Miracle Network Hospitals.
I got to ride to work on a tour bus and hang out backstage with my clients.
I received a hand addressed package from Lita Ford.  IThank you, Martina Fasano!)
I got a phone call from the French Consulate General.  (Thank you,

Eric John Kaiser

!)
Yep – that's me with two legends – Dick Vitale and
Lionel Richie
.  I've skipped way ahead in the story, but seriously, who is this person walking around in my body? The first time the whole out of body thing happened was during a press junket and
Peter Frampton
retweeted something I'd posted about my client.  We jumped up and down like little kids, high fiving because we were so excited, then I burst into tears because I was so overwhelmed.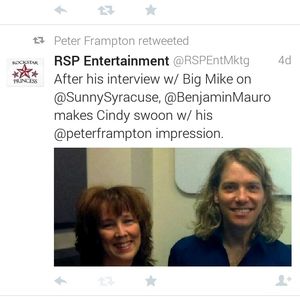 That whole press tour was what helped me finally figure out what I want to be when I grow up.  The only tools I had to make things happen were my amazing research skills, a lovely phone voice and a client with a dream who took a chance on me.  I certainly didn't have any media contacts outside of Detroit – but I made it happen.  Doing PR for my clients became my way of putting all of the skills I'd developed over years in the entertainment industry (and life in general) to use. 

So back to the GRAMMY's (again, I know…) and the fact that I'm so nervous I might throw up as I write this.  But I'm getting on a plane in a few days to head to sunny (I hope) LA and I'm going to rock not one, but TWO killer dresses and some totally bad ass shoes on the red carpets with my clients. I will be extraordinarily uncomfortable, and not just because of my heels but because I know that I still have a lot to learn about this business and a part of me feels like I really don't belong on a red carpet.  I'm not anyone important – just a socially awkward nerd from Detroit.  It's still a process and some days it is a struggle just to get out of bed because of the sacrifices I've made, the personal battles I've waged and the challenges I know I still have to face. But it's totally worth it when I see the look on a client's face when something THEY only dreamed of was facilitated by me pushing myself.  Or when I'm able to take my partners in crime to a show and we all get treated like royalty backstage.
As my friend
Gia
says, "We are all right where we are supposed to be."  All of the amazing highs and crippling lows of the last year have gotten me ready for the spotlight.  I've learned who my real friends are and who just said they were when it was convenient for them.  I've also learned that help and hope are found not where you think they will be, but where you least expect it.  This is the next part of my rock n roll adventure and I'm going to share it so maybe some little part of my story will strike a chord with someone out there.  Plus, hanging out in Hollywood during GRAMMY week is pretty freaking cool. 
★ "The things you are passionate about are not random.  They are your calling." – Fabienne Fredrickson ★
 
Here are a few more of the fun highlights from RSP Entertainment Marketing's first year…..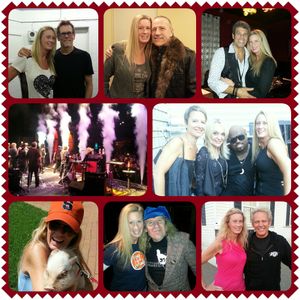 See you on the red carpet!!