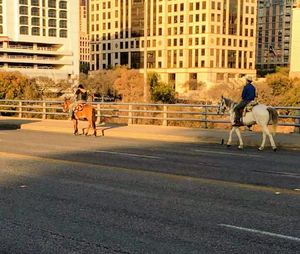 It was a beautiful day to be out and about in Austin!  But first, a stop at the Convention Center for badge pick up.  The majority of the showcases and events during SXSW don't require credentials for entry, but priority is given to conference attendees, so you DO need those stinkin' badges! 
One aspect of the festival that is often forgotten is that it is also a trade show – and there were a lot of groovy vendor displays on the Convention Center floor.  SXSW has a very international feel and numerous countries set up their booths in what I dubbed "International Row" because they were mostly in one quadrant of the trade show.  It was fun to see all the different technology being shown off – there were tons of virtual reality experiences to try, one booth had a Hello Kitty-looking cat you could interact with, another had a giant Pac Man game to play with, and there was a huge disco dancing robot at the end of one aisle.  (I was not allowed to touch that.) 
All of the booths competed for attention and free pens were just not going to cut it.  Props to the various coffee roasters and bless the hearts of those offering adult beverages despite the early hour.  I had coffee made by a robot (not the dancing one) and a bloody Mary made by a person.  The coffee took 45 minutes and the bloody Mary took about 45 seconds.  To be fair, the coffee didn't really take that long to make, it was the wait time because EVERYONE wanted to use the cool robot coffee orderer and apparently, robots can only move so fast.  Either way, the takeaway is sometimes you can't play with fancy toys and will just have to drink your vodka like a grown up.  In the morning with some spicy tomato juice and a pickle.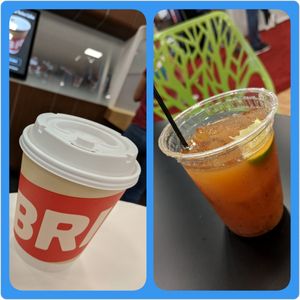 Robot Coffee vs. Human Bloody Mary
After stocking up my fancy SXSW tote with a lot of free pens and small candies, I was headed back to the hotel when I ran into my friends The Accidentals, completely by, well…. accident.  They are a super talented band from Michigan and I worked with them during their (and my) very first trip to SXSW.  It's only been three years, but it seems like ages because of all the success these young musicians have had since then.  They are playing a bunch of events this week in Austin, so check them out if you have the chance. 
Pedicabs are almost a required form of transportation and I had the chance to use one to head over to an afternoon party.  Our driver was fantastic, plus his name was Thor.  He even had the proper hair.  Our route out to the Scoot Inn took us right past the pedicab garage, or "Pedicab Junction" as Thor called the mural and graffiti covered cement building. 
The showcase was "unofficial," which means that anyone could get in, but VIP invites were sent out so we were on the guest list.  (Whew!)  VIP's got a nice raised deck area with seating, so I grabbed a tasty lunch of tacos and chips with guac from one of the food trucks on site and settled in for some jams by a Nashville band called Okey Dokey, followed by Durand Jones & the Indications.  Not a bad way to spend an afternoon, I'd say.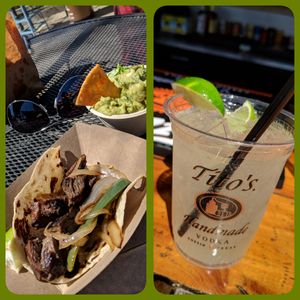 Taco Tuesday + Tito's
The evening festivities brought a lovely stroll across the river via the Congress Street bridge to BMI's Howdy Texas party at the Yeti flagship store, and another batch of familiar faces.  Larkin Poe opened for Detroit's own Bob Seger on some of his tour stops last year.  The sisters rocked, perhaps a bit too loudly for the small, non-acoustic space they were in.  Part of SXSW is the loud music, so get used to it – there was plenty more later in the night.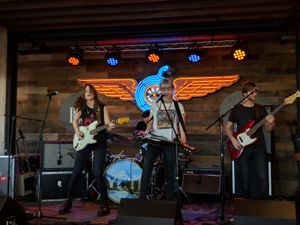 Larkin Poe at the BMI Howdy Texas Party
But first, it was another invite only shindig for Ray Benson's Birthday Bash, an annual event he holds to benefit the Health Alliance for Austin Musicians (HAAM), which provides healthcare to working musicians.  Ray and his band Asleep At The Wheel played for over three hours with various guests sitting in for a few songs.  The whole thing took place in the backyard of the GSD&M building, which was set up with tents and blue twinkle lights for the capacity crowd to enjoy.  Guests included Nikki Lane, Jonathan Tyler, Delbert McClinton, comedian Ron White (cigar in hand), and closed with a rollicking set from the Preservation Hall Jazz Band.  I could really get a sense of how much the people of Austin love their music – this was definitely a local-leaning crowd made up of donors, sponsors and VIPs.  There really didn't seem to be much distinction between VIP and the general crowd and everyone was certainly enjoying Ray's birthday (and the free-flowing booze), but the lack of order was only a precursor of what was to come later.
Nikki Lane & Jonathan Taylor join Ray Benson onstage for his Birthday Bash
SXSW isn't for wimps.  It's crowds, loud music, lots of walking and a lot of standing (mostly on hard surfaces in crowds with loud music) and just because you think you are a VIP or "on the list" doesn't mean you are.  I was reminded of this at the Pandora showcase which was supposedly for Platinum Badge holders only but even with proper credentials people were being turned away from The Gatsby in droves. 
The only way I was seeing Nathaniel Rateliff & the Night Sweats was by sneaking in the industry entrance (shhhh!!!).  Nikki Lane (from Ray's party earlier) opened the show, and Lukas Nelson & Promise of the Real seemed pretty chuffed to be playing close to home.  They were both freaking fantastic!  It was a capacity crowd and LOUD, but the high-end production made it worth getting sweaty.  Nathaniel reminded people to stay hydrated and to "pace yourselves" when navigating the madness that is SXSW. 
Even with countless events going on, some things are constant at SXSW – crowds, music, free pens, waiting in line and people saying, "I'm on the list."  (They aren't on the list.)  Stick with me, I'll sneak you in.
Pedicab Junction