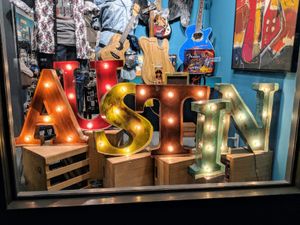 Wednesday was another bright and shiny day in Austin.  Good thing, because SXSW isn't all eating and drinking (although that is a good chunk of it) and work still has to get done.  This is a music conference and a lot of people come here to learn and network. 
I'm still waiting on Voodoo Doughnuts to get in touch about my corner table, so in the meantime I dropped in on some sessions at the Austin Convention Center.  "We All Scream For Ice Cream" might sound like it's about food, but it was really an informative session by the founder of the Museum of Ice Cream about how to continue our natural tendency to be curious as children and continue asking questions as adults that can lead to creativity in business.  Very informative, but no ice cream.  Good marketing would have been to bring samples for everyone.  I mean, it's in the name!! 
One of the coolest people on the planet and all around nice guy Nile Rodgers did a Q&A with the BBC's Jo Whiley.  They called it "Music Biz 101" and Professor Rodgers delivered to four salons full of people anxious to learn the secret to his success.  The man has produced hit records for everyone from Diana Ross to Daft Punk and you have probably heard his work even if you didn't know it at the time.  Duran Duran, David Bowie, Carly Simon, Madonna and Sam Smith have all collaborated with Rodgers on some of their biggest hits – and he has stories about all of them.  It was a real treat to see someone still so passionate to share his knowledge and love of music with the next generation.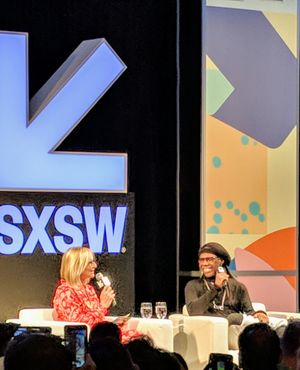 Nile Rodgers shares music biz stories
Since it was so nice out and it is probably snowing in Michigan, I decided to take advantage of the weather and hoof it over to Rainey Street for the Culture Collide Global Street Farm.  The agency partnered with the Produce Marketing Association and put together a GORGEOUS event.  The patio area of L'Estelle House was filled with colorful displays and local florists were on hand to design flower crowns, which were a huge hit.  The fresh produce was put to good use during an artist salsa challenge and The Accidentals threw their soon-to-be-famous spicy mango pineapple salsa into the ring.  Yet another reason these kids are so amazing – very food oriented, this bunch.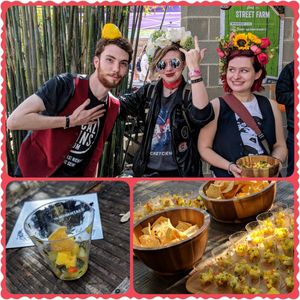 The Accidentals getting spicy at the Salsa Challenge
The salsa wasn't the only thing getting heated up.  More people are arriving for SXSW and the parties are even bigger and louder.  The BBC took over the British Music Embassy (it's a bar, not an international incident) and were broadcasting live back to BBC 1.  Or maybe it was BBC 3; I think they are up to like 6 channels now.  The sound and production were incredible, either way.  Nearly every bar/restaurant/venue along 6th Street has live music of some kind, and that doesn't include the "official" SXSW showcases and events happening at the bigger performance venues.  NPR's concert at Stubb's lasted well into the night (morning?) and included Superorganism, Tank and the Bangas, Low and hip-hop group August Greene with Common.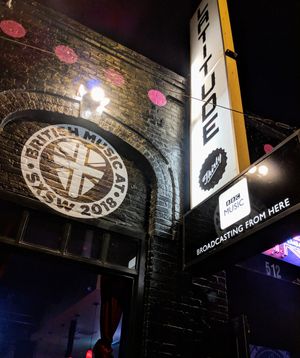 The British are here! And they rock!!
Austin is all about music and one can find a plethora of fun things at Wild About Music on Congress Avenue.  This store is freaking fantastic – it is an art gallery and gift shop dedicated entirely to music.  They have vintage concert t-shirts, kooky socks, gorgeous mosaic guitars, regular guitars, wine glasses, purses, and…  OK, I might have gone a bit overboard in this shop, but it is a seriously cool place.  I'd put it on a "must visit" list for sure.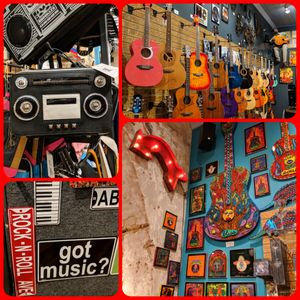 This store is AMAZING!!!
All that shopping had me feeling a little peckish (shocking!) so I wandered back to 6th Street and stopped for a bite at Eureka.  I was able to get a seat and was pleasantly surprised by the craft beer and scratch-made food choices.  Plus the bartender turned the telly to the Syracuse basketball game for me - bonus points because it is March Madness, after all.  Hometown southern rockers American Gypsy Band kept us entertained inside and even had people on the streets stopping to stand in the wide-open windows as the band showed off their groovy, honky tonk, hippie style.  It was kind of amusing to see a dude that looked like Chris Stapleton covering Pink Floyd's "Comfortably Numb," but they killed it! 
The party is going to keep getting bigger as the weekend approaches, but the city seems up to the task.  More streets are blocked off to make room for the pedestrians spilling off the sidewalks and Austin public safety officers are a lot more visible.  Also, I saw Wonder Woman driving a pedicab on my way back to the hotel.  We're covered.