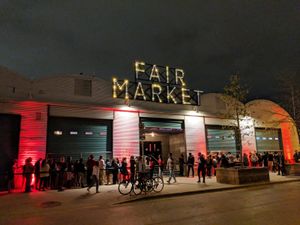 We'll jump right to the end of Thursday night because that was by far the best party and music I've experienced to date at SXSW.  The Budweiser Country Club was well worth crossing the bridge and staying up late to attend.  It was VIP treatment all the way, special entrance, super helpful staff and a special raised area for viewing.  With spot on production, the official Sony Nashville showcase at Fair Market included sets by Levon, Elle King, Kane Brown and The Sisterhood Band before headliner Old Crow Medicine Show came on and lit the place on fire with their rocking, Americana-I don't-know-what-to-call-it-but-it's-awesome brand of music.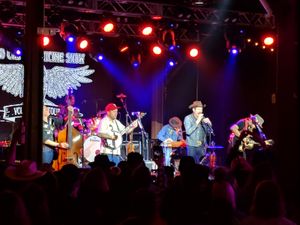 Old Crow Medicine Show tearing up the stage
The Sisterhood Band was a surprising treat – made up of Alyssa Bonagura and Ruby Stewart (Rod Stewart's daughter) – these ladies brought the house down.  Their vocals were killer and Alyssa can shred some guitar.  And on a side note, they are completely adorable and so sweet.  I spoke with them after their set and the duo couldn't have been more gracious.   Budweiser certainly knows how to put together a shindig – Deejay Silver mixed old school 80's with country and threw in a bunch of current beats to keep the dance floor packed between sets.  I'm not a beer drinker and I had a blast. 
The event was a marked difference from how the day started at the ACL Bloody Mary Brunch.  Now, I am all about brunch and the breakfast drinks so this was hot on my list of places to be when I got invited to cover it.  Plus, Austin City Limits is known to have amazing live music.  Shakey Graves and my friends The Accidentals were on the bill, so I got up early and hauled my booty across town to the beautiful GSD&M backyard only to be met by a mass of people. 'Scuze me? Pardon… where is the VIP entrance? Media?  I was invited to brunch……  Hellooooo….  I'm not a morning person. 
Yeah….  There was no industry entrance or helpful staff this time.  No matter which (generally indifferent) ACL volunteer I asked, they all basically told me to get in line for my breakfast taco or the other even longer line for a Bloody Mary.  The booze line made a Saturday at Six Flags look like a walk in the park, there were people winding in loops around the entire property and out into the street just to get a beverage.  Even calls to the media coordinator who had sent out the invitation were met with disdain.  I was not getting into the side area by the stage so I should just sit on the lawn and enjoy the show.  Sure, I know it will be some great music. (It was.)  But I would ENJOY it more if I had a Bloody Mary in my hand and could actually SEE the show I was supposed to be covering.  Poor form, ACL Bloody Mary Brunch.  Poor form.  I did finally end up with a very tasty breakfast taco from Tacodeli.  Those people were very nice. 
Someone who is also very nice and I've known for several years made my day considerably better once I got back to the Convention Center for my first session.  Martin Atkins called his seminar, "Who Moved My Cocaine" and that should give you a pretty good idea of his sense of humor.  The session was NOT about drugs but included things Martin has learned from being in the music industry for over 50 years as a drummer with Nine Inch Nails, Public Image Limited, college instructor, and as the author of three books on the music industry.  My favorite of these is titled, "Welcome To The Music Business.  You're F**ked."  His accent and dry British delivery (complete with f-bombs) make anything he does fun and interesting.  The hour flew by and it didn't feel like "class" at all.  He also throws packs of mini-muffins at the crowd, which came in handy since I was still pretty hungry.  SXSW tip:  get your food where and when you can.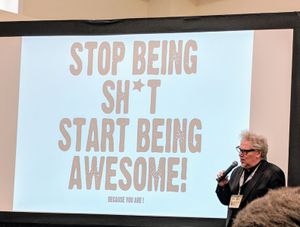 Martin Atkins tells it like it is
I left Martin's session with tears still in my eyes from laughing so hard and headed upstairs because another buddy was doing his talk and I was supposed to pop into the green room beforehand just to say hello.  I was delighted when I ran into the lovely Delaney Gibson of Austin's own SIGNY on the escalator right in front of me.  She was on her way to prep for her discussion, appropriately called, "Don't Look Like Shit: Create Your Visual Aesthetic." It's appropriate because Delaney is stunning and always beautifully and creatively dressed. Her work as a photographer, creative consultant and visual designer made her perfect to teach musicians what they should be focusing on when presenting their image. 
Anyway, on to the whirlwind that is Kenny Aronoff.  Kenny is a world-class drummer and another one of those people who you have absolutely heard his work, you probably just didn't know it at the time.  That instantly recognizable beat from "Jack and Diane" is Kenny.  Pretty much any hit John Mellencamp song you know – that's Kenny playing the drums.  He's also worked with everyone under the sun; Jon Bon Jovi, Sammy Haggar, John Fogerty, The Rolling Stones, Lady Gaga, and Johnny Cash.  Just to name a few.  Kenny's session was all about how being a team player and working hard is the key to his success and now he's sharing it with others.  He usually delivers a portion of the talk from behind a drum kit, but the SXSW people wouldn't let him bring his "because he is too loud."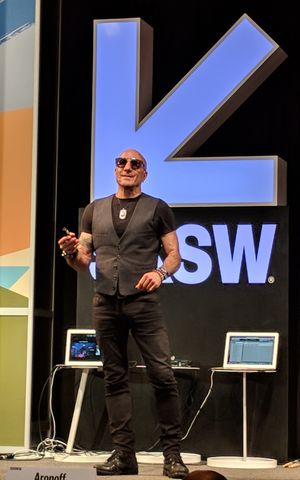 Kenny Aronoff during his presentation
The bundle of energy had to do his presentation while air drumming along to video clips of him actually playing.  It was so fun to see the audience react to such a well-respected musician without his instrument.  I had the chance to spend some time with Kenny afterwards and the crowds just kept following him around.  He is truly passionate about his work and it was yet another example of how SXSW gives up and coming musicians a chance to learn directly from some of the best. 
After a quick stop back at the Courtyard by Marriott to change into some fancier duds, I headed over to the Four Seasons to the GRAMMY party.  This one was another classy, invite-only soiree, complete with secure check-in to gain access to the beautiful grounds overlooking the river.  The Recording Academy did it up right, tasty food and linen-covered tables with plenty of live entertainment to keep their attendees happy.  There was even a special appearance by Taylor Hanson, who had performed with his brothers (you know, Mmmm Bop Hanson) at an intimate John Lennon Education Bus fundraising concert earlier in the day. It was certainly a "see and be seen" event with a lot of people dressed to the nines, and creative types do know how to do it up!  Mmmmm hmmmm!!!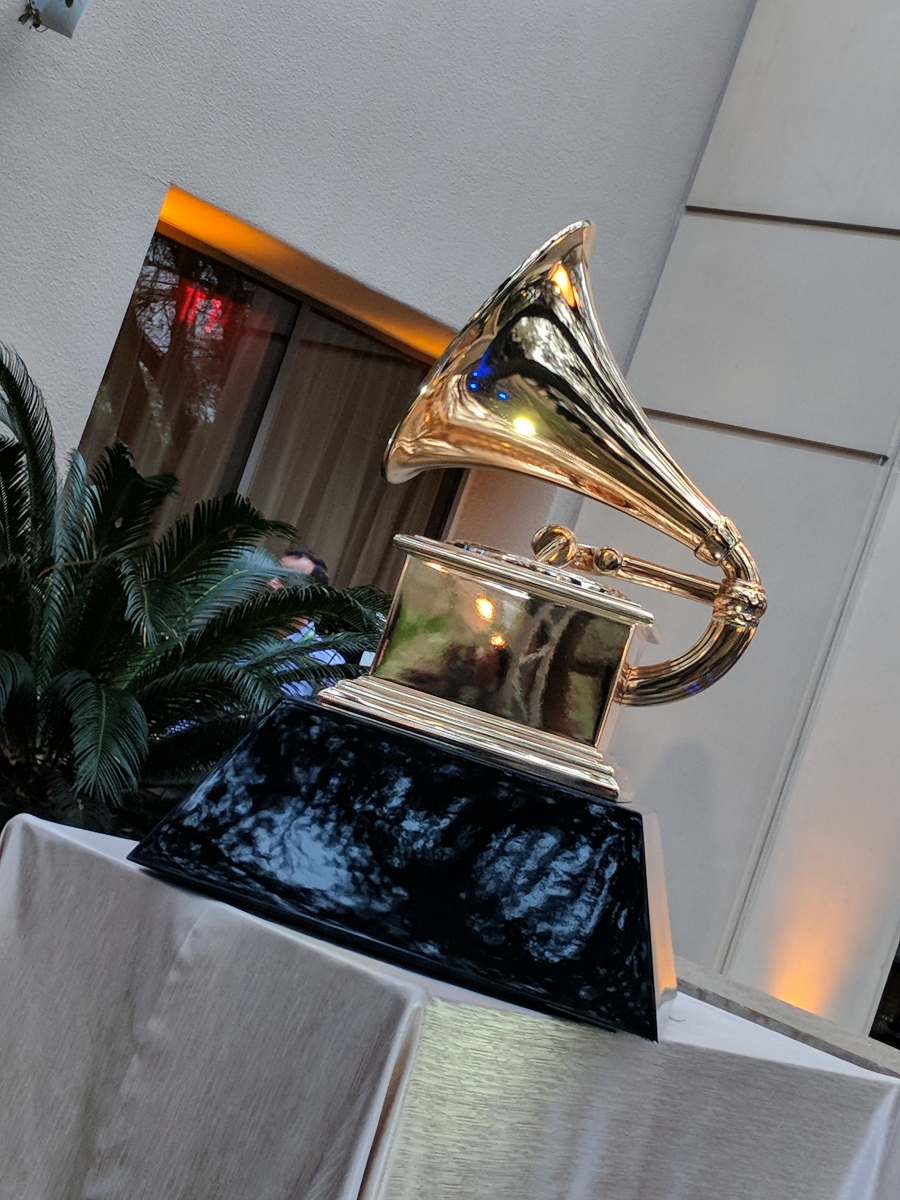 A giant GRAMMY at the Four Seasons