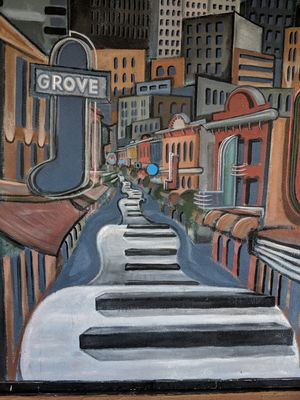 OK, I decided to give this SXSW brunch thing another try.  Boy, am I glad I did!!  BMI pulled out all the stops for their acoustic brunch.  After being greeted with hugs and free drink tickets at check-in, I ambled once more onto the back lawn of the Four Seasons which was already starting to fill up with a crowd.  I heard numerous times that everyone knows THIS is the party to come to and they were right.  Fancy linens, plenty of waitstaff, tons of DELICIOUS food and lots of pleasant people to chat with while BMI artists like Paul Thorn, Jade Bird and Young & Sick performed on stage.  BTW, I finally got my Bloody Mary and it was a good one.  Also, I get the feeling breakfast tacos are a thing here, am I right?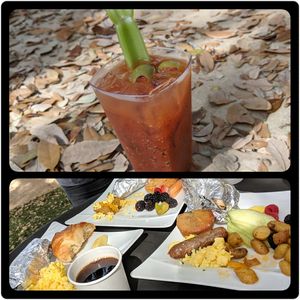 A proper brunch courtesy of BMI
As much as I wanted to stay and enjoy more music and perhaps seconds of the tasty libations, it was time to hustle over to the Convention Center where Keith Urban was doing a keynote speech.  Keith is one of my favorites, going way back to the late 90's when people didn't know who he was.  The man is a consummate entertainer and wicked, wicked good guitarist.  The session was being hosted by Scott Goldman, President of the GRAMMY Museum, who is another favorite.  The two of them together was a "can't miss" opportunity.  (Sidebar – Scott has a fantastic sense of style and always wears the greatest shoes. He didn't disappoint.) 
Scott is a storyteller at heart and always knows how to ask questions that bring the best out of whomever he is interviewing.  He turned the "session" with Keith into an intimate conversation about Keith's career, how he got started, the songwriting process and how he likes to collaborate.  And it was all revealed in a series of anecdotes told by Keith which made the whole thing seem like two dudes sitting around chatting.  On a brightly-lit stage, with a bunch of photographers and capacity audience in front of them.  But other than that, it was really homey.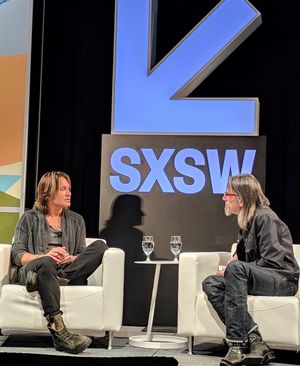 Keith Urban talks with Scott Goldman
Afterwards there was another panel the historian in me couldn't resist attending.  The aforementioned Scott Goldman was talking with Michael Lehman about the life and legacy of Gregg Allman.  Michael was Gregg's manager for years before his death in 2017, but more than that they were friends.  The discussion revolved around the making of Gregg's last record, "Southern Blood" at the legendary FAME Studios in Muscle Shoals, Alabama and included some unreleased video clips and songs from the "vault."  It was moving to hear Michael tell stories about Gregg and feel how important it is to him that Gregg's legacy is kept alive in a dignified manner. 
We decided it was time for more food, and when in Texas it should be BBQ of some sort.  I got the Fred Flintstone size.  At least I think that is what it was called based on the appearance.  I was also able to finally check out the rooftop of the Courtyard by Marriott, which they have set up as an event space for SXSW.  It's awesome up there.  Two bars, lots of colorful Adirondack chairs, a view of the masses below on the streets and some really nice murals of historic Austin venues.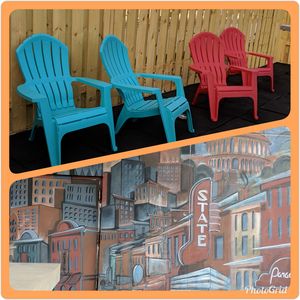 Fun party space on the Courtyard by Marriott roof
Speaking of historic Austin venues, it was time to walk over Cooper's BBQ for the Blue Elan Records showcase, including the Delta Lady herself, Rita Coolidge.  If you are not familiar, Ms. Coolidge was a fixture in the 70's and early 80's music scene, her vocals and writing in high demand from some very well-known artists – Joe Cocker, Graham Nash, Leon Russell and Eric Clapton.  She also won two GRAMMY awards with then-husband Kris Kristofferson.  So she's certainly got the cred. 
Cooper's is a fun place to see a show because the upstairs performance space is open (but with seats, unlike a lot of SXSW venues) and if you get hungry, you can order some of their famous BBQ from the pit downstairs.  Now, let me tell you about Ms. Rita Coolidge, who arrived to her own show via pedicab looking freaking fabulous in some amazing pink cowboy boots, matching tooled leather belt over a long skirt and a flowy crocheted white top.  Just take a minute.  I'll wait.  Superstar looks, none of the superstar attitude.  Ms. Coolidge was as nice as could be to any fans who came up to her for photos or autographs and equally as sweet when she complimented MY firm handshake.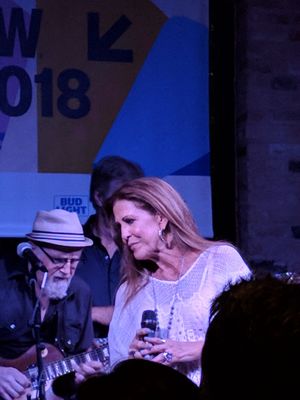 Rita Coolidge at Cooper's BBQ
She took the stage with her full band and holy shit!  It was easy to see why Rita was in such high demand and her voice doesn't seem to have lost a thing.  She hit all the notes on her old hits like, "We're All Alone" and "(Your Love Keeps Lifting Me) Higher and Higher," along with songs from her soon-to-be-released record.  Rita told stories of recording "Walking On Water" with Keb' Mo' and took great delight in having worked with him.  What a performance and I was lucky to have to opportunity to be in on it. Just another SXSW moment that happens when you least expect it. 
Hey, have you heard?  Keith Urban was in town on Friday.  He headlined concert at Stubb's sponsored by Bumble.  Based on the number of attractive young people (and those hoping to meet said young people) roaming the dirt grounds of the outdoor stage, a lot of folks aren't aware that the dating app has expanded into matching businesses and other networking services.  After an ear-splittingly loud set by Larkin Poe, Keith started right on time at 11:10pm (early by SXSW standards, right?) with full lights and sound.  It was a typical Keith Urban show – fun, entertaining, lots of kick ass guitar playing and crowd interaction.  He even came out into the crowd at one point and played to the back of the audience before giving a guitar away to one lucky fan.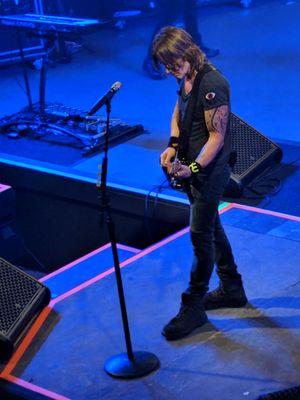 Keith Urban on the Stubb's BBQ stage
It's obvious Keith loves his fans and was happy to be back at SXSW.  He switched up his set list to include a cover of the Steve Miller Band's "The Joker" after saying it "smelled like" the right song to play.  *Ahem*  Ever the professional, Keith finished on time (12:20am), which left PLENTY of time to make one last show for the night, er…. Morning. 
The New West Records showcase was closing out with the Texas Gentlemen and from all the scuttlebutt on the street, they were the band to see.  Made up of a loose group of six session musicians who came together to form a supergroup, the Texas Gentlemen were reminiscent of the Allman Brothers Band.  Very jammy and super talented, these guys stretched out and let loose at Antone's.  They were impressive and the crowd obviously appreciated their musical chops, but when I say they "stretched out," they really stretched out.  And at 2am, after being up enjoying nearly 20 hours of SXSW fun, I was ready to stretch out on my bed.  Which I would have done, but my Chucks were sticking to the floor at Antone's.  Welcome to SXSW.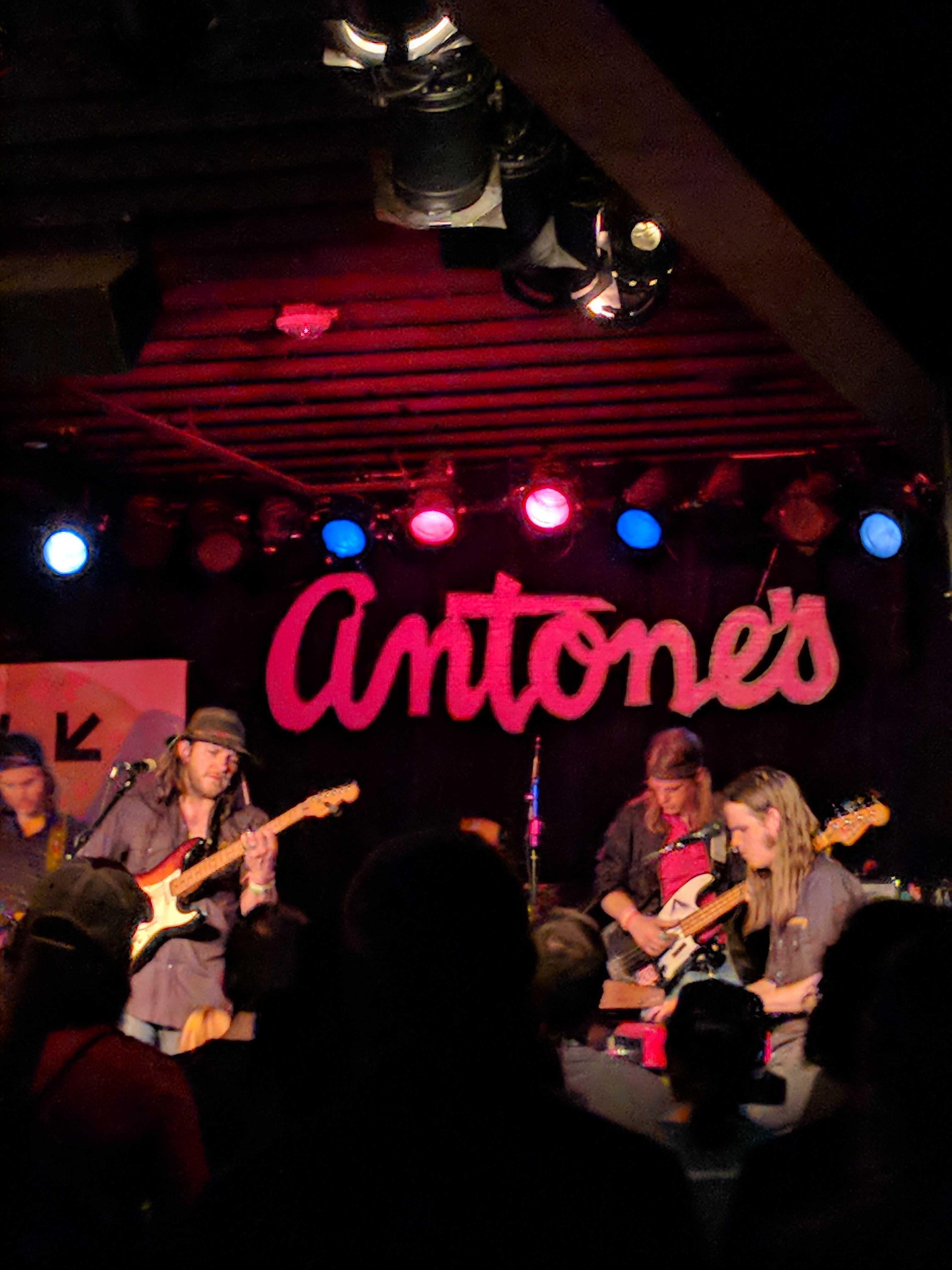 The Texas Gentlemen at Antone's