Roll With It....
To say that my GRAMMY® weekend was an adventure would be an understatement.  The best laid plans of mice and men often
do
go awry.  The trip was a test of my patience and my OCD organizational skills, but I met so many wonderful music people and learned a lot about this machine that is the music biz. I'm still pinching myself that I got to spend time with such an fantastic group of people.
My first clue that I wasn't the boss of anything should have been when my flight on Thursday was delayed by an hour AFTER we boarded and pushed from the gate. Fog in LA, who knew?? The flight delay caused my ride from the airport to be messed up and I had to take the shuttle to Union Station.  Hauling my luggage.  I chose to follow my "stepping out of my comfort zone" theory and met a cool guy named Gabe while waiting for the shuttle.  I thought he was a musician, but it turned out  he was in town for a long weekend after his company sales retreat. I'm not going to say
which
company he works for, but let's just say he was appalled by my choice of a Droid over an iPhone. (AHEM!)  He was still very nice and did not mock me too much for my lack of technical skill. Here's Gabe and me making the most of the shuttle of the damned.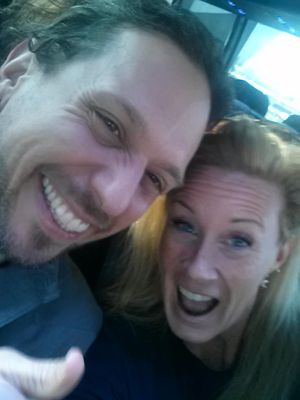 The adventure continued the next afternoon (Friday) as my Sidecar arrived to take me to hair and makeup.  Yes, I just said I had to go to hair and makeup. I felt pretty fancy getting dropped off in a Benz, too. Heh, heh!  It seems like EVERYONE in LA uses a car service like
Uber
or Sidecar to get around.  They use "Uber" as a verb.  "Let's just
Uber
over to the premiere." The traffic is beyond belief.  I mean, I live in Detroit and we know a thing or two about rush hour. But rush hour at 2:15p is ridiculous!  I must say, having the convenience of someone else to drive you around is a pretty nice way to go.  We "Uber-ed" to all of our parties the rest of the night.  You can even order a town car or SUV depending on what your needs are.   
★
Excellent alternative to hiring a limo or something super pricey if you or your clients are on a bit of a budget.
After hair and makeup it was crunch time to get
Elizabeth Butler
to her events.  Elizabeth was a featured performer during
The Soiree
at the House of Blues and we were working the press line before the event.  It was a pretty big deal – an exclusive event for GRAMMY® nominees and industry types.  Here's where I started to figure out that things were about to go wonky again.  We were invited to another party that was taking place before the
House of Blues
, but they were miles apart.  I was very worried that we would not be able to make the red carpet if we tried to do both.  I had been hired to handle the media during The Soiree, and if traffic conditions stayed the same as they had been, we would be hard pressed to get all the way downtown and back to Hollywood before the carpet ended.  So my professional advice was to miss the first party and go do the PR thing at the House of Blues.  There was a lot of discussion and Elizabeth ultimately made the decision to honor her word and we went to the Nomination party for Ricky Kej & Wouter Kellerman's 
"Winds of Samsara
." 
(They won the GRAMMY® on Sunday!!!) 
It was tough for me, because I totally agree on principle that one should always do what one says.  However, from a professional standpoint, missing the PR line that was my sole job wasn't really acceptable either.  We ended up making it to both, arriving back in Hollywood for the madness that would turn out to be The Soiree.
★ Remember that the client makes the ultimate decision, but your professional opinion is what they're paying you for. Don't be afraid to speak your mind.
The Foundation Room
at the House of Blues on Sunset is typically closed to the public. 
Al Walser
rented it out to host his fabulous party for nominees.  If all had gone according to plan, I would have been shocked at this point. I think we've learned that not everything goes the way we want it to.  The red carpet had been moved to a hotel a block and a half away from the House of Blues.  However, nobody told us ahead of time and we had to wander around the Sunset Strip a bit aimlessly for a few minutes before some poor soul took pity on us.  Wandering around The Strip in 5 inch glitter heels is not something I recommend.  Just saying. 
We were granted access to the
Grafton Hotel
only to be met by a
MOB
of people waiting to walk the red carpet.  It was so
NOT
what I imagined a Hollywood red carpet event would be like.  There seemed to be no rhyme or reason to anything.  (Another lesson learned – even in Hollywood, they don't always have their shit together.) I had to force our way through people just to get Elizabeth in front of the press.  The staff was doing their best to direct things, but the amount of people milling about was staggering. Guests were vying to be photographed and the journalists didn't know at first who was who.  I'd like to think this was where I earned my keep – navigating camera set ups, dodging lighting rigs, directing photogs on how to shoot Elizabeth and prepping the reporters with background and bio info; all while wearing a cocktail dress and the aforementioned 5 inch heels. We made it through with no wardrobe malfunctions in front of the cameras.  I am personally very thankful that Elizabeth's daughter had some safety pins, though. 
★ Lesson learned:  bring your PR Go bag – even if it doesn't match your dress.
So we made it through a couple of hurdles and were now minutes away from the scheduled performance time. NOTE I said "SCHEDULED" performance time.  The logistics of the whole event and red carpet back ups caused the performances to be way behind schedule.  Elizabeth was originally scheduled to go on at 10:30p and I think she ended up playing somewhere around 11:30 or 12.  So many people wanted to attend the party that Al booked both rooms upstairs at the HOB, but that still wasn't enough space.  It was a crush of people all trying to network, mingle and catch some awesome music.  So much so, that a lot of the artists couldn't even get inside at first.  That led to things being even more being behind schedule, but amazingly enough, the majority of people didn't seem to mind.  I was shocked, being one of the minority that DID mind. How could such a major event happen with so much seeming to go wrong?
★
Time to learn that not everyone is as much of a perfectionist as I am and things tend to work out without so much fretting! 

Everyone was so excited to be a part of such a wonderful evening, that when things went sideways with performances being pushed or getting squished in the crowd, people just rolled with it.  Sure, there were a few complaints, but all in all, it was dealt with fairly well.  The amount of genuine appreciation for the music and talent that was present was astounding to watch.  My friend Jody Quine was instrumental in convincing me to come to LA and she KILLED as the emcee.  Talk about a woman that can roll with the changes!

My first 36 hours in Hollywood as a publicist and I'd already learned a lot of valuable lessons.  The indie music community is alive and well – and well represented during GRAMMY® week.  These are the people that do what they love and celebrate with their whole hearts their art and the work of their peers.  With all of the ups and downs of my couple of days, the main things I took away were:
To lower my expectations of others – not everyone is a perfectionist
My way isn't the only way (aka, the world does NOT revolve around me)
Plan ahead for traffic – UBER it if you can
Stepping out of your comfort zone (again) isn't always a bad thing
Even when things seem out of control, they probably aren't
Go with the flow – everything happens for a reason
Safety pins and snacks are necessities
Be prepared to go home in a cocktail dress and your Chucks
When Malcolm Jamal Warner wants a photo, smile even if you can't feel your feet
That was my first full day on the PR job in Tinseltown– stay tuned for more on actual GRAMMY® day and my touristy fun in the sun. There were more celebrity sightings!!