Working The Corner of Red River and 6th Street
South by – yeah, don't plan on it….I got back from my very first SXSW experience earlier this week and I'm still suffering the after effects of the crazy hours, travel and pouring rain.  Be thankful this is digital and you're not reading this from germ covered paper.  {cough, sniffle}
Alright, I'm going out on a limb and I might get some blow back for this – but I wasn't all that thrilled with SXSW.  I mean, I see what all of the hype is about – the music scene is out of control amazing.  There are so many shows and wonderful, creative people all over Austin during the festival.  In my opinion, that is part of the problem.  Too much to see and do, too spread out and not enough organization.  My slightly OCD planner self was spinning.  There are people spilling out of venues, lines down the block, street performers with Chewbacca masks, cops, more people, buskers….  you get the idea.  There is something going on in every single bar, restaurant, gas station parking lot, some dude's house; certainly no shortage of music.  So if your sole intention at SXSW is to listen to a bunch of live music by artists you may or may not have ever heard of – by all means – this is the place for you!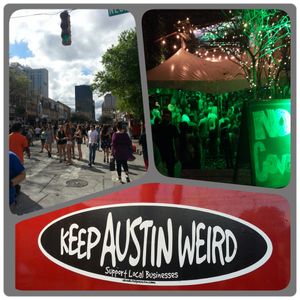 However, if you had hoped to meet some new clients, make connections with industry types or generally "see and be seen," SXSW really isn't the most conducive environment.  
Marsha Shandur
talks briefly about SXSW in her interview on the
Brassy Broadcast
and she pretty much nailed it – unless you have a military plan, not much is going to get accomplished.  I was lucky enough to have some semblance of a guide in the form of one of my fellow Detroit music industry peeps who had been to Austin numerous times.  Joe warned me that the one thing I had to keep in mind was to go with the flow.  Sure, no problem.  I could do that, I mean how bad could it be?  I. Had. NO. Idea.  There is no such thing as planning ahead.  Sure, you can have a list of the places and parties you WANT to be at, but that is merely a rough draft. Nobody ever ends up where they say they're going to be.  Joe and I finally resorted to texting each other in the morning to find out where to meet.  Sometimes that didn't work because by the time I was able to get to the DZ (sticking with the military theme), they had already moved on – either the party was "lame" or some other factor. (I'll get to that in a sec)  We were able to triangulate one day on the corner of Red River and 6
th
which seemed to work out better than a specific venue, because you know, hanging out on a street corner ALWAYS works out.  Anyhoo…. The afternoon was full of rooftop parties, little people rapping in wheelchairs (I can't make this shit up), March Madness, Fireball, roller derby girls in the middle of 6
th
Street and lots of walking. But it was fun! What an experience!  Who gets to do this?  Well, about 500,000 of your closest friends and strangers, that's who.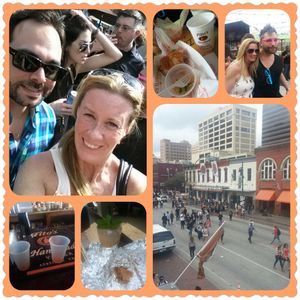 There are massive amounts of industry parties and you can get invited to a vast majority of them.  In fact, I lost track of the number of RSVP's I sent back prior to departing for Austin.  One day I spent at least 30 minutes responding to email invites and transferring everything to my calendar.  Of course, just because you RSVP'd doesn't mean you will actually get
IN
to the event. (See aforementioned "other factors")  Yep – the laws of physics still apply and you can only squeeze so many people into a venue at any given time.  Fire marshals tend to get a wee bit testy about this, so the event organizers (I use the term loosely in some cases) are sticklers about their head count.  This became a HUGE problem on Friday when it started to pour down rain.  I was very excited to attend the
SPIN
party at Stubbs which was by all accounts one of THE places to be.  Well, I stood in line, got my laminate (I'm fancy!) and proceeded toward the entrance.  Only to be stopped and sent back in line. Wait, what?  I have a
laminate
– I was invited to this party.  Yeah, they don't care.  So were all the other schmucks standing around with me in the mud. 
Stubbs
was at capacity and they couldn't let anyone inside until someone came out.  It was a "one out, one in" policy.  And yes, that is exactly what you think it is.  A guy stands by the door and if one person comes out, he lets one person in.  Totally sucked, because in this particular case, my peeps were already INSIDE waiting for me, but I couldn't get in.  So once again, the best laid plans….   I ended up wandering around the streets of Austin with a bunch of other poncho clad people who "weren't on the list."  (Side note – those advertisers who thought ahead and made ponchos with your product/slogan/logo on them? GENIUS!)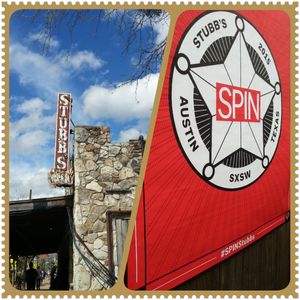 Now, if I had wanted to spend approximately $800 to get an "official" badge for the SXSW festival, I would have been able to access a lot more.  Sadly, I did not do this and was relegated to the rain-soaked and unwashed masses.  There are certainly benefits to having credentials – you get access to all the "official" parties (put on by the labels or major companies; usually with more well-known acts and delicious food) PLUS being able to attend all of the panel discussions and networking events INSIDE the Austin Convention Center.  For an industry professional looking to make connections and learn more about the business, these panels are a gold mine.  The topics vary, but they are generally filled with experts who can share their knowledge and experience.  So if I decide to go back, the way to go (for me) is to get a badge and treat it like a work conference with maybe some cool music on the side.
Afterall, it's Austin – there is always some cool music on the side!  And I got to be a part of one cool event that was over a year in the making – all via social media!!  What happens when 4 women who have only met on social media decide to plan a show at SXSW?!  Stay tuned!!  And you know there has to be
something
coming about the road food!