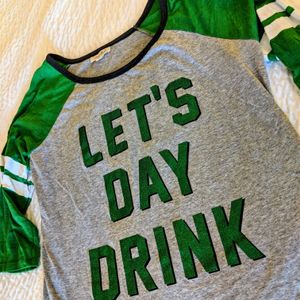 I thought it was supposed to be a DRY heat down here in Texas?  I'm swimming my way through the final weekend of SXSW with bad hair and a glistening brow (because ladies don't sweat, you know!). Saturday was an early wake up and the weather wasn't the only reason I was moving slow, if you get my drift.  Six days of late nights with constant walking or standing was starting to take its toll.  I said it before but it bears repeating – SXSW isn't for wimps! 
Saturday was also a holiday – St. Patrick's Day!  Not that anyone really needs an excuse to have some adult beverages at SXSW, but St. Patty's really ups the day drinking game.  The festival winds down with two big parties, Rachael Ray's Feedback BBQ during the day and The Roots + Friends Jam at night.  Both have a reputation for being amazing, but this year only one delivered.  I'll give you a clue, there was food and it actually happened.  (More on that in a bit) 
Rachael hosted her annual shindig at Stubb's BBQ and got everyone in the spirit with bagpipers as the gates opened.  Scottish, not Irish, but bonus points for originality and it is geographically close.  The pipers were dressed in green, so I'll give them that.  Feedback is one for the "must attend" list if at all possible.  It's open to the public (21+) as long as you RSVP.  The line to get in starts to form early because the food and entertainment are always excellent.  Neither disappointed. 
The menu was mostly for the dogs, errrr, made up of dogs.  Pimento Cheese Dogs and Mini Veggie Corn Dogs. Yes – even I tried the veggie corn dog and they were DEEE-LISH!  I may have had two.  Or three. They were mini!!  There were also Three Meat Sloppy Joes (you know, to make up for the veggie-ness earlier) and someone was wise enough to provide already crushed up Fritos for the top.  Yes, please!!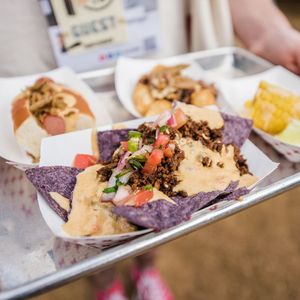 A tray of DELISH at #RRFeedback
This year's music lineup featured Girl Talk, Kurt Vile, Dr. Pepper's Jaded Hearts Club Band and the original spice girls, Salt-n-Pepa on the main stage.  There were at least a dozen other acts alternating on two more stages (one outside and one inside) so the music was plentiful.  Dr. Pepper's Jaded Hearts Club Band is a Beatles tribute band led by Matt Bellamy of Muse and their rendition of "Helter Skelter" was the perfect close to the six-hour party.  But it was Salt-n-Pepa with their old school favorites and high energy performance that had the crowd rocking.  In addition to their hits "Push It," "Let's Talk About Sex" and "What A Man," the latter featuring Ray and her husband John Cusimano joining the ladies on stage, DJ Spinderella threw in samples from "Sweet Child O' Mine" and "Jump Around" that had the sweltering crowd on the field jumping and waving their hands in the air.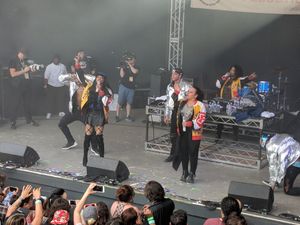 Salt-n-Pepa bring it old school
All that jumping around had me hungry again (shocking, I know) it was FINALLY time to hit Voodoo Doughnuts on the way back to the hotel.  I figured the line would be shorter than usual, because nobody wants deep fried dough sitting in their belly on a sweltering hot day.  Except me.  And apparently a lot of other people, because the line was still out the door.  We moved along fairly quickly and before I knew it I was gazing upon spinning display racks of deliciousness.  (Insert heavenly music here!!)  The transaction was quickly completed and I hustled out the door cradling my pink box of treasures.  Totally worth the wait.  Voodoo Doughnuts is another Austin staple that should probably go on the "must visit" list, but bring cash.  They don't take plastic.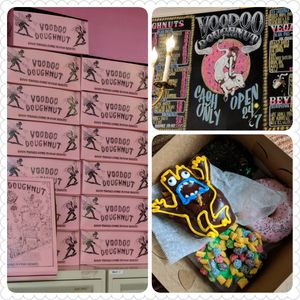 Doing that Voodoo that they do
After stuffing my face full of a Captain Crunch doughnut and cooling off a bit, it was time to leave for the Roots + Friends Jam across the highway at Fair Market.  The Roots show closes out SXSW every year with a bang – surprise special guests and all kinds of great swag.  DMC (of Run DMC) and Ludacris were both on the advance (secret) list so the show was already living up to the hype.  Plus, Bud Light was the sponsor and they spend some bucks on throwing a decent party.
We'd just been there for the Budweiser Country Club event on Thursday and these folks totally had their shit together so it would be easy peasy, right?  WRONG!  There was a line down the block by 7:45pm but that was fine because the agency had put us on the guest list.  We walked up to the VIP side entrance we had used Thursday only to discover it was mass chaos as well.  There were supposedly three lines for VIP and Media check-in, but nobody was bothering to keep the lines organized or allowing anyone into the venue.  More and more people arrived and claimed to be VIP in an attempt to cram into the small space on the side of the building.  Repeated calls to the Bud Light agency went unanswered.   Hmmmm…. This seemed messed up even by SXSW standards and it just kept getting worse.  
Doors still hadn't opened 30 minutes past the scheduled start time and there were rumors that the show was being canceled.  We could hear bands sound checking inside the building, so no way that was the case.  Someone must have been late and everything was pushed back.  That made more sense.  NOPE!  It was in fact canceled, which the crowd learned after Questlove Tweeted that he was sorry but a "severe emergency" required them to cancel the show.   Someone from the venue came out shortly afterwards and announced it to the mass of people still milling around.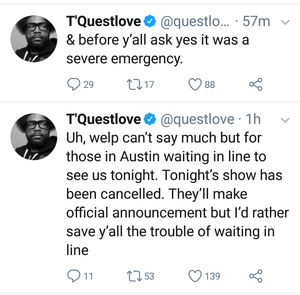 Questlove tweeted the news before the official announcement
Wait, what?  Turns out, it was a bomb threat that was received at 4:23pm, the police checked everything out, found no threat and said to go ahead.  Bud Light decided to wait until everyone had shown up (some waiting for hours), missing the entire closing night of SXSW (I skipped Bill Murray and Jeff Goldblum for THIS?!?) and then cancel the show.  Not cool Bud Light.  Also not cool to lie to the press about it not being a bomb threat – they called it a "security concern" when asked by journalists on scene, later tweeting the same canned response.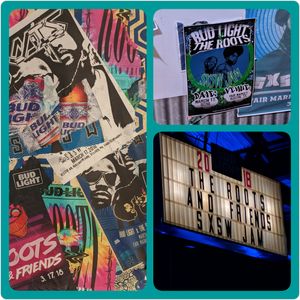 The show that never happened
The crowd dispersed with a lot of questions but not a lot of noise.  I was making a lot of noise later that night when Michigan won against Houston with a 3-point buzzer beater, though.  Guess the night wasn't a complete waste since I got to see some more March Madness.  It also gave me time to pack at a decent hour, because the airport ride was coming early and bringing gingerbread pancakes the size of my head from Magnolia Café.  So with a suitcase full of free pens, gifts for some deserving friends, assorted merch and a stomach full of pancakes, it was time to say goodbye to SXSW.  Not a bad way to send a girl off, Austin.